A complete PDF editing solution which includes all the tools to create, convert, edit and protect PDF documents. Get Ashampoo PDF Pro license for up to 3 PCs in one household or company with 71% Off coupon
You save $49.95 | 30-day Money-back Guarantee | Secure Payment | 24×7 Customer Support
Ashampoo PDF Pro Review Video
This video shows how to edit a PDF document and also how to edit the text of scanned PDF or any pdf made from the images.
Ashampoo PDF Pro Review at a Glance
Ashampoo PDF Pro creates, edits and converts PDF documents. PDFs are now as easily editable as Word documents and users can modify them the same way they would modify text documents in a word processor.
Ashampoo PDF Pro also supports document conversion into multiple popular formats (Microsoft Word, RTF, HTML, EPUB, JPEG etc.) to make contents more accessible. Embedded graphics and drawings are easily replaceable and the integrated find and replace feature supports both text and font styles. Working with multiple files is effortless thanks to drag and drop merging and support for PDF portfolios and photo albums.
The integrated text recognition (OCR) instantly converts scanned text into computer-editable text. Word processing is highly versatile with support for wrapping text around objects, powerful spell checking and auto-hyphenation. Inserting, moving, cropping, masking and deleting individual images is also possible. Sensitive information can be blacked out and documents protected with AES encryption. With Ashampoo PDF Pro included printer driver, PDFs can be created from virtually any Windows application.
back to menu ↑
Features
Key Features of Ashampoo PDF Pro:
Merge PDF documents into a single file
Drag and drop to merge PDF documents into a single file
Create PDF portfolios
Drag and drop images to create entire photo albums
Automatic text wrapping
Track document changes
Built-in spell checker
Use auto-hyphenation
Insert pages
Crop pages
Apply page numbering
Sort, delete and rotate pages
Use headers and footers
Apply watermarks
Crop/Mask embedded images
Find and replace fonts
Find and replace across documents
Search hyperlinks
back to menu ↑
Requirements
To run Ashampoo PDF Pro with optimum reliability and performance, your system should match the following requirements:
Operating System: Windows 10, Windows 8 / 8.1, Windows 7
Computer: Any computer that supports the above operating systems.
Other: An Internet connection is required to activate the program. The program license is verified repeatedly at regular intervals.
back to menu ↑
Download
Not sure if Ashampoo PDF Pro does what you need? Try it out now. Please feel free to download Ashampoo PDF Pro Trial or Free Version for Windows here. This PDF Tool by Ashampoo has been tested professionally and we are assured that no viruses, Trojans, adware or malware contained.
back to menu ↑
Buy Now
Ashampoo PDF Pro retails for $69.95, But, through our website, THE Software Shop, you can save on your purchase of its license key with  71% discount coupon code. This offer is available for a limited time!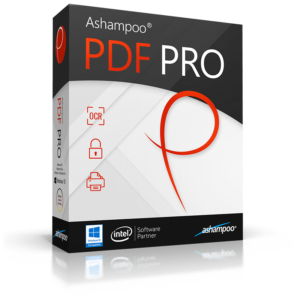 Ashampoo PDF Pro
Get the indispensable tool for anyone who works with PDF documents at 71% discount!
Delivery: Download-Version
Can be used on up to 3 PC in one household or company
Operating system(s):Windows® 10, Windows® 8, Windows® 7
$69.95

Ashampoo Software Deal
Get all software you need with a discount coupon up to 81% Off
Delivery: Download-Version
Operating system(s):Windows® 10, Windows® 8, Windows® 7
Ashampoo PDF Pro Giveaway is unavailable at this moment.
Please note that once you signed in, do not close this page. You will be shown how to get this offer for free.
Also, check out the latest software giveaways that are available here on the software giveaway page.
NOTE:
– All prices shown here are in listed USD (United States Dollar). Your local currency will be converted automatically, You can also switch to any other currencies during the checkout process.
– The discount coupon & your local VAT (Value added tax – if available, vary by country) will be applied at checkout automatically.
– The order(s) for the software are processed by the CleverBridge company. This company accepts paying on-line, via PayPal, by fax, bank-wire transfer, check, cash, or purchase order.
– You will receive a notification e-mail from Ashampoo/Cleverbridge when your order is processed which will also include your license information.
– Such promotional programs are subject to change without notice, from time to time in our sole discretion.
– Data may vary based on different system or computer.
---
Thanks for reading Ashampoo PDF Pro Review & Enjoy the discount coupon. Please Report if Ashampoo PDF Pro Discount Coupon/Deal/Giveaway has a problem such as expired, broken link, sold out, etc while the deal still exists.