GIVEAWAY
Software Giveaway – Ashampoo® Webcam Guard: Free License Key | The One-click PC Webcam & Microphone Protection Tool – for Windows
Secure access to your webcam and microphone and protects them against malware and hackers. Get Ashampoo WebCam Guard: Full Version with a license key for free!
You can also get your own WebCam Guard License that includes free updates & support with a discount of up to 66% OFF!
✔ Save $20.00. ✔ Lifetime Use ✔ Free Product Updates ✔ 24×7 Customer Support ✔ 30-day Money-back Guarantee.
Ashampoo WebCam Guard Review briefly
Do you ever find yourself forgetting to turn off your webcam at the end of a video call? Do you want to protect your privacy? Well, you can do that with Ashampoo WebCam Guard.
Ashampoo WebCam Guard is a reliable and user-friendly software application developed for webcam protection. It offers unparalleled privacy protection by preventing unauthorized access to your device's hardware. The program deploys a sophisticated algorithm that effectively disables the hardware, one level below Windows' own protective mechanism. This ensures that there are no loopholes or backdoors for potential hackers to exploit.
The software has been specifically designed to cater to the needs of people who value their privacy and want to secure their webcams against spying eyes. It provides an easy-to-use solution that eliminates any worries about installing additional software on your computer. With Ashampoo WebCam Guard, you can rest assured that your webcam is secure and protected at all times.
Windows can restrict camera access to individual applications by default, but this provides only limited safety. Malware, e.g., rootkits, can access your hardware directly, completely bypassing this mechanism. And Windows can only block applications it already knows! Ashampoo® WebCam Guard prevents hardware access at a deeper level, making it appear to malware and spyware as if you didn't even have a camera!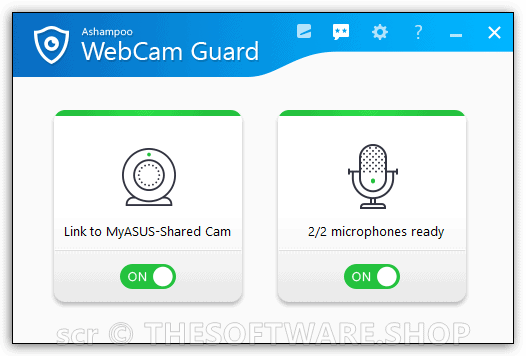 This webcam security tool also helps you avoid the pitfalls of telework. It will remind you when your webcam session in Zoom, Teams, Slack, or any other video chat tool has ended, and it also turns off your webcam once the call has finished. Ashampoo WebCam Guard works by running in the background of your computer, which means that it won't take up any processing power or memory on its own. The program monitors all video chat programs and will notify users when their cam session has ended so they know to turn off their camera before ending a call.
Ashampoo's webcam protection app was built on the premise that online privacy is an increasingly critical issue for people who work remotely concerned about their online security when working from home or another remote location. If you're looking for the safest way to enable your webcam and microphone only when needed, Ashampoo WebCam Guard is the solution for you.
Features
Key Features of Ashampoo WebCam Guard
Easily turn your webcam and microphone on/off
Prevents unauthorized webcam and microphone access
Well-designed user interface for easy handling
Disables hardware through specially designed algorithm
Highly resource-efficient
Auto-detects connected hardware
Easy access to Windows-default data protection settings and resources
Supports auto-launching
Requirements
To run #THE SOFTWARE with optimum reliability and performance, your system should match the following requirements:
Operating System: Windows® 11, Windows® 10
Requirements: Any device that supports the operating systems listed above. Systems with ARM processors are not supported.
Other

Full administrative rights are required to use the program.
An Internet connection is required to activate the program. The program license is verified repeatedly at regular intervals.
Download
Not sure if #THE SOFTWARE does what you need? Try it out now. Please feel free to download Ashampoo WebCam Guard Trial here. This webcam privacy protection app by Ashampoo has been tested professionally and we are assured that no viruses, Trojans, adware or malware contained.
Buy Now
Ashampoo WebCam Guard is available for $29.99. But, through THESOFTWARE.SHOP, You can get your own Ashampoo WebCam Guard license with our exclusive 66% discount coupon. This offer is available for a limited time!
Software giveaway: You can also get Ashampoo WebCam Guard V1.00.31 full version with a license key for free in the Giveaway tab below!
ORDER HERE:

You also might like

Giveaway
Ashampoo® Webcam Guard - Lifetime (66% Off)
EFFECTIVE AGAINST UNAUTHORIZED WEBCAM AND MICROPHONE ACCESS!
One-time Payment.
Lifetime License / 1 PC.
Free Update for purchased major version.
Free Technical support form Ashampoo
30-day money-back guarantee
Platform: Windows
$30.00
Ashampii WebCam Guard Key Giveaway
available now FREE for a limited time!
Please note that once you signed in, do not close this page. You will be shown how to get this offer for free.
Also, check out the latest software giveaways that are available here on the software giveaway page.
NOTES:
– All prices shown here are in listed USD (United States Dollar).
– Such promotional programs are subject to change without notice, from time to time in our sole discretion.
– Data may vary based on different systems or computers.
---
Thanks for reading Ashampoo WebCam Guard Review & Enjoy the discount coupon. Please Report if Ashampoo WebCam Guard Discount Coupon/Deal/Giveaway has a problem such as expired, broken link, sold out, etc while the deal still exists.