GIVEAWAY
Expired
Software Giveaway – Batch PDF Encryptor PRO: Free License Code | An Easy-to-use Batch PDF Encryption Tool – for Windows

Encrypt and protect multiple PDFs in one click. Enhance your document security today. Get Batch PDF Encryptor PRO with a license code for free!
You can also get your own license of this product that includes free upgrades and support for just $29.95.
✔ Free Product Updates ✔ 24×7 Customer Support
Batch PDF Encryptor PRO Review at a Glance
Do you find yourself juggling multiple PDF files with the constant worry of unauthorized access to your sensitive information? The solution to your predicament is here: Batch PDF Encryptor PRO.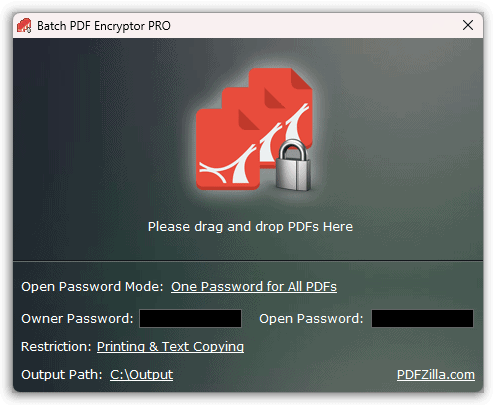 Unleash the Power of Batch PDF Encryptor PRO
Batch PDF Encryptor PRO is not your average software tool; it's a robust, feature-packed solution designed to encrypt and restrict multiple PDF files in bulk. With a focus on enhanced security, this versatile software offers a range of features that will put your mind at ease when it comes to safeguarding your confidential documents.
Unique Passwords for Enhanced Security
With its remarkable capability to effortlessly generate individual, one-of-a-kind passwords for each and every PDF file all at once, you will gain the invaluable power to assign a completely separate and distinct password to each and every single PDF document, thereby drastically amplifying the level of security and effectively thwarting any attempts of unauthorized access or intrusion.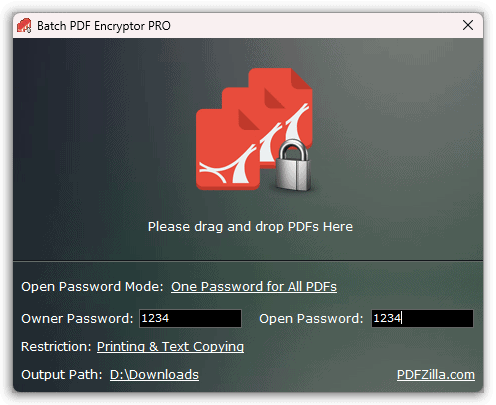 The open password serves as the first line of defense, ensuring that only authorized individuals can access and view the contents of the PDF. Whether you need to protect various levels of PDF sensitivity or want to simplify the process of securing different PDFs for distinct users, Batch PDF Encryptor has got you covered.
Streamlined Batch Processing
What truly sets Batch PDF Encryptor PRO apart is its efficiency in handling batch processing. Unlike other encryption tools, it allows users to encrypt and restrict multiple PDF files in a single operation, saving both time and effort. This feature is particularly beneficial for individuals and businesses that deal with substantial volumes of PDF documents.
Single or Multiple Passwords
For those who prefer a straightforward approach to document security, Batch PDF Encryptor offers the option to protect all PDF files with a single password. This simplifies the management of your documents' security and makes it easy to keep track of your protected content.
Reinforce Security with Printing Restrictions
Configuring printing restrictions is an essential aspect of PDF file security. With Batch PDF Encryptor PRO, you can seamlessly set printing restrictions for your documents, ensuring that only authorized individuals can print them. This not only safeguards your information but also prevents unauthorized distribution and misuse of sensitive content.
Prohibit Unauthorized Text Copying
Preserving the integrity of your content is paramount. This PDF Security software enables you to prohibit text copying, preventing unauthorized users from extracting and replicating the text while reading your PDF files. This feature guarantees that your information remains secure and confidential.
User-Friendly and Effective
Batch PDF Encryptor is designed with simplicity in mind. It offers an intuitive and user-friendly experience, ensuring that even individuals with minimal technical expertise can protect their PDF files from unauthorized access.
System Compatibility
This PDF Encryption tool supports various Windows operating systems, including Windows 7, Windows 8, Windows 10, Windows 11, or later (32/64 bit). Additionally, it is compatible with Windows Server, making it a versatile solution for a broad spectrum of users.
Enhancing Document Security
In summary, Batch PDF Encryptor PRO is the ultimate solution for anyone seeking to protect their PDF documents from unauthorized access. Its unique features, including the ability to generate individual open passwords for each file, efficient batch processing, and printing restrictions, make it the top choice for individuals and businesses looking to enhance document security.
Don't leave the security of your sensitive information to chance. Choose Batch PDF Encryptor PRO for reliable, comprehensive protection. Secure your PDF files with confidence and peace of mind.
Features
Key Features of Batch PDF Encryptor PRO:
Batch Processing: Encrypt PDF files in batches for efficient and time-saving document protection.
Random Password for Each PDF: Generate unique open passwords for each PDF, enhancing security and preventing unauthorized access.
Single Password for All PDFs: Simplify management by setting one password for all PDF files.
Save Password File: Automatically save generated passwords in a password CSV file for easy access and management.
Set Printing Restrictions: Control who can print the documents with easy-to-configure printing restrictions, preventing unauthorized distribution.
Text Copying Prohibition: Protect the integrity of your content by prohibiting text copying, ensuring information remains secure and confidential.
Simple and Easy to Use: User-friendly and intuitive design makes it easy for individuals with varying technical expertise to secure their PDF files.
Portable Version Available: Enjoy the flexibility of a portable version, allowing you to use the software on the go.
Adware/Malware Clean: Enjoy free from adware and malware, ensuring a clean and secure user experience.
Requirements
To run #THE SOFTWARE with optimum reliability and performance, your system should match the following requirements:
System Requirements for Windows OS:
Supported Windows OS: Windows 7, Windows 8, Windows 10, Windows 11 or later (32/64 bit) & Windows Server
System Requirements for Mac OS:
Downloads
Not sure if #THE SOFTWARE does what you need? Try it out now. Please feel free to download Batch PDF Encryptor PRO here. This PDF Encryption tool by Reezaa Media Inc has been tested professionally and we are assured that no viruses, Trojans, adware or malware contained.
Installer (Windows) Portable (Windows)
BUY NOW
You can get a Batch PDF Encryptor PRO license for just $29.95, with free updates and support. Buying multiple licenses may qualify you for a discount of up to 23%.This offer is available for a limited time!
🎁 Software Giveaway: You can also Batch PDF Encryptor PRO with a license code for free in the Giveaway tab below.
ORDER HERE:

You also might like

Giveaway
Batch PDF Encryptor PRO Key Giveaway
available now free for a limited time!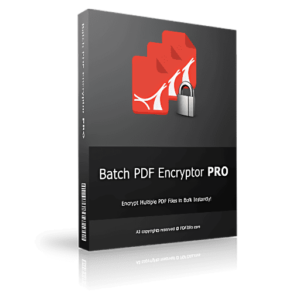 Please note that once you have signed in, do not close this page. You will be shown how to get this offer for free.
Also, check out the latest software giveaways that are available here on the software giveaway page.
NOTES:
– All prices shown here are in listed USD (United States Dollar).
– Such promotional programs are subject to change without notice, from time to time in our sole discretion.
– Data may vary based on different systems or computers.
---
Thanks for reading Batch PDF Encryptor PRO Review & Enjoy the discount coupon. Please Report if Batch PDF Encryptor PRO Discount Coupon/Deal/Giveaway has a problem such as expired, broken link, sold out, etc while the deal still exists.