BEST SELLER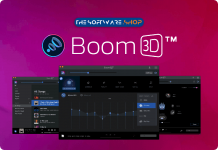 76% Off – Boom 3D | An Award-Winning Pro Audio Enhancement Tool – for Windows / Mac OS X
Experience immersive 3D surround and lifelike sound with Everything. For a limited time, You can get a 76% discount on Boom 3D for Windows or Mac OS X!
✔ Save up to $37.99. ✔ Free Product Updates ✔ 24×7 Customer Support
Boom 3D Review at a Glance
Boom 3D is an all-new pro audio app that delivers rich and intense audio with 3D surround sound that makes any kind of headphones sound better! This nifty app has been engineered with some incredible features to be a great companion for Mac. The 3D Surround Sound offered by Boom 3D is powered by Global Delight's patent-pending Boom audio engine that offers a truly immersive experience on any headphones that the ears keep longing for!
With its innovative 3D audio technology, Boom 3D can completely transform the way you listen to music or watch movies. Normal stereo audio has a very limited specialness with left and right sound sources and hence feels less realistic. Boom with its unique sound staging algorithm extracts audio components from stereo tracks and adds incredible spatial effects by creating virtual sound sources to make audio listening on headphones magical and extremely realistic.
From the videos on YouTube, Hulu, etc; your favorite music playing on iTunes, Spotify, etc; to voice applications like Skype, iChat, etc; and your favorite Games, Boom 3D can boost them all. Add to that the ability to boost audio files, you have a booming addition to your computers. Use equalizing presets such as Jazz, Acoustic, Classical and many more or just customize your very own preset to something unique.
So start booming and blow away the silence!
Screenshots of Boom 3D
Features
Key Features of Boom 3D
3D Surround Sound – 3D sound provides an option to check audio from each speaker of the virtual 3D surround audio system and also lets you adjust LFE (subwoofer) gain, and intensity of audio.
31-Band Equalizer – Outfitted with the most advanced equalizer that allows you to calibrate your audio with just a slide of your finger!
Volume Booster (Only for Mac version) – Boom 3D for Mac is a system-wide volume booster that safely increases the volume beyond its regular limits to deliver a rich and intense audio experience.
Select Audio Output – Device From the Settings, you can choose the type of your audio output device so that Boom 3D can appropriately offer an output that sounds best.
Powerful Intensity Slider – The Intensity slider offersfull control overthe audio output, and allows you to adjust the Bass and Treble. Shove it up or bring it down until you spot your optimum level.
Audio Across Various Devices

Cinematic 3D surround sound for a larger-than-life movie experience
Manage and organize your audio collection with the intuitive Boom player'

Amazing Audio Effects

Ambience – Bring your favorite games and movies to life and feel the background ambient sounds moving all aroun…
Night Mode – With the perfect 'night-time binge watch' effect, harsh sounds like explosions are reduced and quiet…
Fidelity – The fidelity effect boosts the weaker frequency bands of your audio, increasing the overall quality …
Spatial – The spatial effect intensifies and enhances the 3D soundscape. This seamless speaker booster increas…
Pitch – The pitch effect of Boom 3D allows you to adjust the pitch of the music by 5 semi-tones to match oth…

Advanced Audio Player – Play all locally stored audio files with unbeatable Boom effects, create playlists of your favorite songs, and organize your music collections just like your personal music player app.
App Volume Controller (Only for Mac version) – Control over the volume of each individual application that is running!
20,000+ Internet Radio Stations – Enjoy free access to more than 20k Local and International Internet Radio Stations across 120 countries!
Requirements
To run #THE SOFTWARE with optimum reliability and performance, your system should match the following requirements:
System Requirements for Windows OS:
Supported Windows: Windows 11 & Windows 10
System Requirements for Mac OS:
Supported macOS: macOS 10.10.3 or later
Downloads
Not sure if #THE SOFTWARE does what you need? Try it out now. Please feel free to download the Boom 3D trial for Windows or Mac here. This System-Wide Volume Enhancer And Equalizer by Global Delight has been tested professionally and we are assured that no viruses, Trojans, adware, or malware are contained.
Downloads
Windows/Mac
Buy Now
Boom 3D is available for $49.99. But, through THESOFTWARE.SHOP, You can get a Boom 3D license with a 76% discount coupon. This offer is available for a limited time!
Buy for Windows

Buy for Mac

You also might like

Giveaway
NOTES:
– All prices shown here are in listed USD (United States Dollar).
– Such promotional programs are subject to change without notice, from time to time in our sole discretion.
– Data may vary based on different systems or computers.
Excellent
Boom 3D – Take Your Audio to the Next Level!

With a host of amazing features, this handy app gives your Mac a fantastic audio upgrade that improves the sound experience with your movies, music, games, and more!

Positive
3D Surround Sound: All your audio, in immersive 3D surround sound.
Advanced Equalizer: Completely customize your sound with a state-of-the-art 31-band equalizer.
Volume Booster: Raise your volume beyond regular limits to enjoy rich, high quality sound.
App Volume Controller: Individually set volumes for different apps.
Full-fledged Audio Player: Have your entire collection in one place and create playlists and more!
Internet Radio: Access to 20,000+ internet radio stations and podcasts.
---
Thanks for reading Boom 3D Review & Enjoy the discount coupon. Please Report if Boom 3D Discount Coupon/Deal/Giveaway has a problem such as expired, broken link, sold out, etc while the deal still exists.