90% Off on Standuply Program Manager Plan – Lifetime Access – Digital Scrum Master for Slack
Run stand-ups no matter of the distance and provides co-located teams with an opportunity to make their live meetings more efficient. Get a lifetime access to Standuply Program Manager Plan, the enterprise plan for the company at 90% discount for just $59
You save $553.00 | Lifetime Access | 60-day Money-back Guarantee | Secure Payment | 24×7 Customer Support
Standuply Review at a Glance
Daily Standups…can't live with em…can't live without em, amirite? So you are working with team members across several time zones and y'all need to catch up on your day's activities. If you are like most people you are using Slack to communicate and it works..but you know there's a better way…there' gotta be a better way. Well you're in luck because today's tool is going to take your standups and make them outstanding with Standuply.
Standuply is the web tool that allows you to run asynchronous text, talk or video standup meetings via Slack. Standuply interviews your team members in Slack, collects their answers and provides you with an ability to see the history of stand-ups right in your Standuply's personal account on the web.
How it works
Let's take a look at how Standuply can take your team collaboration to a whole new level. So the first thing you'll want to do is select a schedule for your standup. Then you'll add your team members to the meeting.Then all that's left is to input the questions that you'd like each team member to answer. Questions like: What are you working on? Do you have any blockers?
You can also integrate data requests into your standup with integrations with Google Analytics & Jira. Then you can select where you want to send the results: a slack channel, email or webhook. Standuply will then collect the team's answers on the schedule you designated and delivers the aggregated report & data to the entire team. Team members can respond via text or video messages to the meeting. This is especially helpful when visuals are needed to convey a message.
So if you are ready to save time and remove the frustration out of your daily standups, then you'll definitely want to check out Standuply.
back to menu ↑
Features
Key Features of Standuply:
Customizable questions
Quick reply using buttons
Video & voice messages
Standups history on the Web
Ask people on their time zones
Integrations: Giphy, Product Hunt, Medium and more
"Task response" question type
Asynchronous video & voice standups
Integrations: Google Analytics, JIRA
Conditional questions (if 'A' then ask "B')
Standups analytics dashboard
Program manager exclusive features

Multi-admin access
Standups on Trello tasks
Backlog Grooming
360 Degree Feedback Surveys
99.99% guaranteed uptime SLA
Priority support

Holidays and vacations
Posting results in a thread
Manual standups
Surveys
Standups summary to email
View summary by question/person
XLSX, PDF Export
Team video conference automation
Bot personalization
Anonymous surveys
Trello integrations
GitHub, GitLab & BitBucket integrations
Shared Channels Delivery
Planning Poker
Advanced team analytics
back to menu ↑
Free
Not sure if Standuply does what you need? Try it out now. Please feel free to get Standuply Starter Plan here. This slack bot has been tested professionally and we are assured that no viruses, Trojans, adware or malware contained.
What you get:
Customizable questions
Quick reply using buttons
Video & voice messages
back to menu ↑
Buy Now
Standuply Program Manager retails for $22.00/month/5 respondents, But, through our website, THE Software Shop, you can get lifetime access to this enterprise plan at a 90% discount for just 59.00. This offer is available for a limited time!
ORDER NOW

You also might like

Giveaway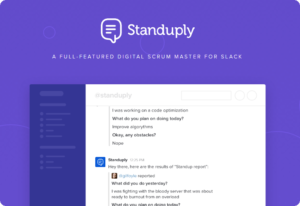 Standuply Program manager - Lifetime
Lifetime Memebrship/user
Get a lifetime access to this plan for just $59.00
Lifetime access to Standuply's Program Manager Plan
All features includes all exclusive program manager features
All future updates to the Program Manager Plan
15 respondents
99.99% guaranteed uptime SLA
Priority Support
This deal is not stackable.
60-day money back guarantee. No matter the reason.
$612.00
Standuply Giveaway is unavailable at this moment.
Please note that once you signed in, do not close this page. You will be shown how to get this offer for free.
Also, check out the latest software giveaways that are available here on the software giveaway page.
NOTE:
– All prices shown here are in listed USD (United States Dollar). Your local currency will be converted automatically, You can also switch to any other currencies during the checkout process.
– The discount coupon & your local VAT (Value added tax – if available, vary by country) will be applied at checkout automatically.
– The order(s) for the software are processed by the AppSumo company. This company accepts paying on-line, via PayPal, by fax, bank-wire transfer, check, cash, or purchase order.
– You will receive a notification e-mail from AppSumo/Avangate when your order is processed which will also include your license information.
– Such promotional programs are subject to change without notice, from time to time in our sole discretion.
– Data may vary based on different system or computer.
---
Thanks for reading Standuply Review & Enjoy the discount coupon. Please Report if Standuply Program manager Lifetime Deal has a problem such as expired, broken link, sold out, etc while the deal still exists.