BEST OFFER
95% Off on Lifetime access to Swipe Pages Marketer Plan – Fast-Loading AMP Landing Page Builder
Build blazing fast, mobile led, fully responsive landing pages in minutes. Get Lifetime access to Swipe Pages Marketer Plan at a 95% Discount!
✔ Save $995.00. ✔ Lifetime Access ✔ 6–day Money-back Guarantee. ✔ Secure Payment. ✔ 24×7 Customer Support
Swipe Pages Review Video - Overview
95% Off on Lifetime access to Swipe Pages Marketer Plan – Fast-Loading AMP Landing Page Builder
Swipe Pages Review at a Glance
I don't know if you've heard, but landing pages are kind of a big deal when your ads aren't converting and hardly anyone is reading your website content. Landing pages can swoop in to save the day and your conversion rate. All you need is the tool in today's product showcase: Swipe Pages.
Swipe Pages is a blazing fast, fully responsive drag and drop landing page builder that lets you create amazing, fast-loading landing pages that are optimized for all devices. Thanks to 40+ beautiful templates, 20+ advanced modules, and a user-friendly drag-and-drop editor, Swipe Pages allows you to whip up high-converting landing pages without having to code.
All landing pages are hosted in a powerful and secure cloud, so you never have to worry about losing data. And every landing page is optimized and responsive to give you superfast speeds.
Swipe Pages' form builder helps capture leads and transfer them to your CRM or email marketing software through Zapier and native integrations. Plus, you can add text fields, checkboxes, and more for personalized landing pages.
Swipe Pages offers built-in A/B testing and analytics to run and track landing page performance. You even have the ability to create sub-accounts and provide role-based access to collaborate with your team and clients.
Bottom line: With Swipe Pages, you can increase conversions with fast-loading, beautifully designed landing pages.
How does Swipe Pages work?
Swipe Pages lets you build instant loading high converting AMP landing pages quickly with no code at all. AMP pages are the fastest loading superstars of the google search results. You might recognize them as having a flash symbol. Google recommends AMP landing pages for ads as they offer a great user experience and thus convert better.
So, let's create a new page. There are two options: a standard page or an AMP page. From there, select a template and use category and use case filters to narrow down your search.
If you are feeling brave, so let's start with a blank canvas. The landing page builder is super user-friendly. Pages are made up of sections that take up the width and the page and are divided into rows and columns. You'll fill them up with modules that you choose from the left panel by hitting plus or dragging and dropping in it. This left-hand module is also where you can control the page settings. The Global Settings is where you control things like typography, my brand colors, and logo.
You can also add your Facebook pixel id, update SEO, add custom css, and javascript and much more. Swipe Pages also comes with dynamic text replacement that lets you personalize your landing page based on the visitor who wouldn't convert on a page made specifically for them.
Overall editing is pretty straightforward and you could make sure your landing page is responsive on other devices by adjusting the spacing, font sizes, and more based on each device. Once you are happy with your finished product, you can publish your landing page to Swipe Pages or a custom domain. Set up your custom domain is as easy as entering the domain name and choosing a subdomain. Then you can set up your DNS records and connect.
Swipe Pages actually comes with a few must-haves including sub-accounts with separate workspaces and access levels, integrations with tools like Mailchimp and Aweber, an API key for tools like Zapier. With the ability to connect to stripe, you can sell products directly from your landing page.
Finally, Swipe Pages comes with a/b testing. Whenever you create a new landing page, Swipe Pages creates a variant that goes by the very clever name: Variant A. Clone that variant to create a copy or make your second variant from scratch. Once you've created and edited the second landing page, turn on a/b testing mode and decide how to split traffic between the two. After this republish the page and kick back while Swipe Pages tracks the analytics.
Build and launch landing pages insanely fast to boost conversions and your ROI. This deal won't be around forever so get your hands on Swipe Pages today!
Features
Key Features of Swipe Pages
Build

Drag & Drop Editing – Build and edit landing pages swiftly and easily
25+ Elements – From multistep forms & image carousels to pricing tables our builder's list of 20+ tailor made modules
Responsive Breakpoints – Offer an optimal user experience across different screen sizes. Customize for desktops, laptops, tablets & mobiles.
Clone / Duplicate Pages – Clone or duplicate your landing pages with just a single click.
Pricing Tables – Build and customise pricing plans with ease for every use case.
Tables – Highly customisable and powerful table module to categorise and present information efficiently
Countdown Timer – Create a sense of urgency for your offer on your landing page.
Galleries & Carousels – Showcase your product in style and entice your users to your landing page by adding beautiful galleries & carousels.
Cut, Copy & Paste – Save time by copy, pasting modules or custom sections across your landing pages.
Copy Styles – Save time while building your landing page by copying and applying similar property styles between elements.
Keyboard Shortcuts – Simplify your workflow by using nifty keyboard shortcuts while building your landing page
Undo & Redo – Reverse and restore actions that have been previously undone on your landing page.
Multi-Select & Edit – Select multiple modules at the same time and edit them in one go. Yet another time saver.
Device Visibility – Hide / Show elements in different devices using device visibility option.

Design

40+ Templates – Build your landing page quickly by starting off with one of our conversion optimized templates.
80+ Prebuilt Blocks – Prototype landing pages in a matter of minutes. Quickly create landing pages for every target segment, campaign & use case.
1000+ Google Fonts – Choose from google typefaces with over 1000+ styles to fit with your brand look for your landing page.
Responsive Typography – Easily adjust the typography settings on your landing page to suit different screen sizes.
Font Styles – Save commonly used font values and quickly reuse them across modules in your landing page.
Font size: PX, EM, REM – Swipe Pages supports px, em and rem on all its landing pages for adaptability across screen sizes.
Color Swatches – Add your brand colours as swatches and easily alter the colors on your landing page with a single click.
Gradient Colors – Aesthetic and trendy, gradient colors ensure that your landing pages are a cut above the rest.
Unsplash Images – Get access to 1 Million+ free professional images from Unsplash for all your landing pages.
Icon Library – Contains 8000+ Icons from popular icon kits for all your landing pages.
SVG support – Use high quality SVG graphics in your landing page and ensure your pages load fast & look crisp.
Parallax Effect – Using parallax scrolling gives your landing page a sense of depth thereby creating an immersive and interactive experience for the user.
Video Background – Successfully capture visitors attention with autoplay video background clip on your landing pages.
Blend Modes – Blend modes allow you to create photoshop like effects. Make your landing page stand out.
Lightbox support – Swipe Pages lets you easily display additional text and images using user triggered lightboxes on your landing page.
Full Screen Sections – Easily create full screen sections across your landing pages with a single click.
Retina Images – Give your landing pages the power to have pixel perfect, sharp images to showcase your product/service in style.
Animations – Convey your ideas in an engaging manner by using on scroll css animations.
Favicon – Easily upload & set a favicon to your landing page. Basic, but an absolutely necessary feature our competitors seem to ignore.

Hosting

Custom Domain – Publish landing pages to your domain and keep the URL's consistent with your brand.
Free SSL – Your landing pages SSL encrypted and are served via https. Helps you build trust with your users.
CDN – With a global network of over 40 PoP's your landing pages, It makes your landing pages load fast anywhere in the world.
Powerful Cloud Servers – They use powerful servers from top cloud providers like Amazon AWS & Digital Ocean to ensure your experience with Swipe Pages is fast & reliable.
Performance Optimization – When you publish your landing age, 30+ performance optimization tasks are run in a single click.
Redundant & Reliable – The backup servers with Geo DNS ensure your high availablity of our app and your landing pages.

Convert

AMP – Achieve near instant loading by building AMP landing pages.(Google recommended by the way). Gain an edge over competition with higher ad quality scores and better ROI on your ad spends.
A/B Testing – Split traffic among variants of your page with just a few clicks. Discover which of your pages convert better with our in-built analytics.
Form Builder – Add fields like date, toggles,checkboxes, range sliders and more to help you successfully obtain the lead information you need.
Multi-step Forms – Encourage users to convert by turning complicated forms into multiple steps.
Dynamic Text Replacement – Personalize your customer experiences by replacing text in your page with the query data you get from the ad.
Lead Magnet – Store and deliver your lead magnets after successful form submission.

Manage

Client Sub-Accounts – Manage multiple clients and keep their details organized using Sub-Accounts
Campaigns & Groups (Soon) – Categorise and group your landing pages based on the parent campaign.
Teams – Onboard your team and manage permissions with roles like Admin, Manager, Author, and Viewer
Google SSO – Get your whole team to signup using your company's GSuite email and manage access to your Swipe Pages account with ease.

Leads

Export Leads as CSV – Quickly view all your lead data in our dashboard and download them as a CSV file
Zapier Integration – Use Zapier and Send your leads and data from Swipe Pages to 1000+ Zapier supported apps
Direct Integrations – Send leads directly like Mailchimp, Hubspot, Constant Contact, Zoho, Campaign Monitor & ConverKit
Lead Notification Email – Send Notification through email to your team/clients whenever a new lead comes in.
Delete unwanted leads – Clean up your house and remove unwanted leads or test data before launching your campaign.
Lead Bypass – Send lead data directly to your CRM without storing them in Swipe Pages. Useful for industry-specific regulatory compliance.
Webhooks (Soon) – Create custom integrations by sending form leads to any server using Webhooks

Analytics

Key Performance Indicators – See how your landing pages are performing with just the right metrics you need.
Date Range Filters – View and analyse your landing page's performance over any given time period.
Variant Performance – Track conversions at a variant level and quickly identify which version is delivering the best results.
Google Analytics & Facebook Pixel – Integrate with Google Analytics & Facebook Pixel with just your tracking ID's. We include the script based on whether your landing page is AMP or Standard.
Script Manager – Code Editors allow you add tracking scripts to the appropriate position in the landing page. Be it Google Tag manager or any other app.

Help

12×6 Live chat support – Any help with questions or issues, our team is available 12×6 via live chat to give you hands on assistance.
In-app Knowledgeable – With an easily accessible in- app knowledge base we've left no stone unturned to ensure hands on, reliable support.
Email Support – Prefer email to chat? No Problem, the support team is available 12×6 to answer any queries.
Requirements
Since Swipe Pages is the Web-based tool, To run #THE SOFTWARE with optimum reliability and performance, your system should match the following requirements:
Internet Browser
Internet Connection
Swipe Pages Trial
Not sure if #THE SOFTWARE does what you need? Try it out now. Please feel free to download the Swipe Pages Trial here. This landing page builder by Arrow Labs Pte Ltd 2020 has been tested professionally and we are assured that no viruses, Trojans, adware or malware contained.
Free Trial Templates
Start your 14 day Free Trial
Access to all features. No credit card required.
Buy Now
Swipe Pages is available starting at $29/month. But, through THESOFTWARE.SHOP, You can get Get LIFETIME access to Swipe Pages Marketer Plan at a 95% Discount! This offer is available for a limited time!
Order Here!

You also might like

Giveaway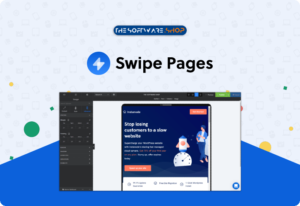 Swipe Pages - Lifetime (95% Off) - 1 Code
Lifetime access to Swipe Pages Marketer Plan

3 Custom domains
100,000 Monthly unique visitors (split between domains)
5 Client sub-accounts
5 Team members
AMP

Unlimited conversions
Unlimited sub-domains
Unlimited landing pages
Conversion optimized templates
Server side A/B testing
Dynamic text replacement
Ecommerce - Stripe checkouts
Analytics & conversion tracking
Zapier integrations
Direct integrations
Lead notifications
Lead magnet delivery
Multi-step forms
Hosting with SSL & CDN
Unsplash images
Full chat & email support

You must redeem your code(s) within 60 days of purchase
All future Marketer Plan updates
Stack up to 5 codes
Only for new Swipe Pages users who do not have existing accounts
60-day money-back guarantee, no matter the reason
$1040.00
Swipe Pages Giveaway is unavailable at this moment.
Please note that once you signed in, do not close this page. You will be shown how to get this offer for free.
Also, check out the latest software giveaways that are available here on the software giveaway page.
NOTES:
– All prices shown here are in listed USD (United States Dollar).
– Such promotional programs are subject to change without notice, from time to time in our sole discretion.
– Data may vary based on different systems or computers.
User & Media Reviews
What are their users saying about #THE SOFTWARE? Why they loved it?
White label question
I'm very excited about using Swipe Pages but had a question about branding. When I publish a page what exactly does someone see on the page? Is Swipe Pages logo on it somewhere or is it only noticeable on the backend?
Thanks,
Greg
(Source: AppSumo)

Love this tool and fast WOW
I just spent the last hour with this cloning my click funnels optin page just as a test, not figured the pop-up and optin bit yet, but for 1 hours work on a brand-new tool I think it looks awesome.
Check it out, you can see it looks good https://ad.ppcyoda.com/hybrid
A hell of a lot of work has gone into this tool and I'm glad I got all 5, I would upgrade further if possible because its fantastic and the pages are pretty rapid
(Source: AppSumo)

Great multi purpose application
A product is rated on the journey, as much as the destination. The ease of use to get up and going with swipe pages is phenomenal. Want templates? You got it. A landing page for a funnel got it. Payments directly on the amp page.. sure. The possibilities are fantastic, and this software would be a welcome addition to anyone's professional's toolbelt – from front end developers to marketers, to small business owners to large event organisation – there is a use for Swip pages for everyone.
I had an issue as, lucky me, stumbled upon a bug which broke the AMP, and reached out for assistance. I did have trouble initially getting a response, but that is understandable as they have just launched this campaign, so are busy. Long story short, they have fixed my issue.
Super excited to see where the team takes this, so take my 5 tacos, i have fully stacked up, and wish you all the best.
(Source: AppSumo)

No brainer Builder
Saw the USP and thought 💭 "that's interesting" typically when I buy builders everyone in the builder community complains about page speed. This builder takes that problem and solves it and then some. Native conversions testing, analytics and stripe payments make Swipe Pages a strong contender in the landing page building world. I grabbed the 5 stack to support business needs but for this to really be worth our wild as freelancers/agency owners we need the 5 stack to include: white label and subaccount/client billing. Good deal though.
(Source: AppSumo)

Wowzers
I decided to try this out even though I have website builders up the wazoo. But I'm glad I did. Another inexpensive way of building out affiliate sites on the low-low. Google page speed and gt metrix came back with some fast reports. There are a couple of things I want to see if I can improve but going to contact support for it.
I do worry about how companies can sustain hosting costs and fixing issues that may come up. I build my websites in WordPress and use flywheel hosting. But for $49 it's worth the risk.
Don't miss this deal!
(Source: AppSumo)

---
Thanks for reading Swipe Pages Review & Enjoy the discount coupon. Please Report if Swipe Pages Discount Coupon/Deal/Giveaway has a problem such as expired, broken link, sold out, etc while the deal still exists.