BEST SELLER
25% Off Coupon – Cinema Grade: Lifetime License | The Proven Color Grading Software – for Adobe Premiere Pro / Final Cut Pro / DaVinci Resolve
Take your film projects to the next level! You'll finally be able to get the cinematic look with a simple plugin! Get Cinema Grade includes lifetime license, free updates, & support with 25% discount coupon
✔ Save up to $49.75. ✔ Lifetime License. ✔ Free Product Updates. ✔ 24×7 Customer Support. ✔ 30-day Money-back Guarantee.
Cinema Grade Review: A Comprehensive Look at the Color Grading Software
If you're a filmmaker or video editor, you have probably heard of Cinema Grade, a color grading software designed to help you achieve the perfect look for your film or video project.
What is Cinema Grade and How Does it Work?
Cinema Grade is a powerful color grading software designed to make the color grading process faster and more intuitive. Developed by Color Grading Central, a company known for its color grading plugins and LUTs, Cinema Grade is a plugin for popular editing software like Premiere Pro, Final Cut Pro X, and DaVinci Resolve.
How Does Cinema Grade Work?
Cinema Grade follows a simple point-and-click grading process, similar to painting or sketching. This means that even a beginner can make color adjustments with ease. The software also offers built-in presets and favorite LUTs that can be easily applied to your footage. This video color grading software also supports X-Rite chart support, allowing you to easily adjust exposure and color balance.
Compatibility with Editing Software
Cinema Grade is compatible with all major editing platforms, including Adobe Premiere Pro, Final Cut Pro, and DaVinci Resolve. Users can install the Cinema Grade plugin directly into their editing software and access it from within their editing workflow. This allows for seamless integration with your existing editing setup.
Why Use Cinema Grade?
Better Shot Matching
One of the key features of Cinema Grade is its shot matching capability. This allows users to match the color and tone of different footage, making it easier to achieve a cohesive look across your entire project. The software also supports LUT import and look transfer, so you can easily apply the looks you've created on one clip to another.
Saves Time
Cinema Grade saves time by streamlining the grading process. With its intuitive user interface, you can make changes to your footage with just a few clicks. The software also supports multi-shot grading, so you can make adjustments to multiple clips at once.
Offers Professional Results
This color grading tool for video is designed to offer professional results, even for beginners. With its modern color grading tools and scope, you can achieve a cinema look for your footage. The software also supports saturation adjustment, so you can make your colors pop.
How to Use Cinema Grade?
Base Correction
The first step in using Cinema Grade is to perform base correction, which involves adjusting exposure and color balance. This can be done using the X-Rite chart or by simply clicking and dragging on the viewer.
Final Grading
Once the base correction is done, you can move on to the final grading. This involves adjusting the overall look and feel of your footage, including saturation, contrast, and temperature. This Video color grading tool offers a variety of tools for this, including presets, favorite LUTs, and manual adjustments.
Multiple Shots at Once
If you need to adjust multiple shots at once, Cinema Grade makes it easy with its multi-shot grading feature. This allows you to select multiple clips and make changes to their color and tone simultaneously.
What Makes Cinema Grade Better than Other Color Grading Software?
Intuitive User Interface
The intuitive user interface sets it apart from other color grading software. The software follows a simple point-and-click process, making it easy for beginners to use. To make changes, all you have to do is click on the tool and drag it across the viewer.
Preview LUTs in Real Time
With its ability to preview LUTs in real-time, This makes it easy to see how your footage would look with a certain LUT applied. The software also supports LUT import and look transfer, allowing you to apply your favorite looks across multiple clips.
Streamlined Workflow
Cinema Grade's streamlined workflow is another reason why it's a great choice for filmmakers and editors. The software integrates seamlessly with your existing editing software, allowing you to save time and work more efficiently. The software also supports X-Rite chart support, making it easy to adjust exposure and color balance.
Final Thoughts on Cinema Grade
Perfect for Filmmakers
Overall, Cinema Grade is a great choice for filmmakers and video editors who want to achieve the perfect look for their footage. With its intuitive user interface, streamlined workflow, and professional-grade features, it's no wonder why it's a popular choice in the industry.
Affordable and Effective
This color grading tool is also affordable, with the Pro version priced at $149. This makes it an accessible choice for indie filmmakers and small studios. The software is also effective, offering a variety of tools to help you achieve the perfect look for your project.
Upgrade Your Color Grading Game with Cinema Grade
If you're looking to upgrade your color grading game, give Cinema Grade a try. With its user-friendly interface, professional-grade tools, and affordability, it's a great choice for filmmakers and editors of all levels.
Screenshots of Cinema Grade
Features
Key Features of Cinema Grade:
Cinema Grade runs as a plugin inside of Premiere Pro, DaVinci Resolve, and Final Cut Pro X on any Mac and is loved for these amazing features:
Adjust Exposure & Contrast – Selectively adjust shadows, mids, and highs based on where you click and drag.
Auto White Balance – Achieve instant white balance. Fine-tune color contrast by dragging up (warn) or down (cool).
Adjust Saturation – Selectively adjust saturation in shadows, mids, and highs based on where you click.
Vector Tool – Easily perform secondary color corrections to change the hue, luma, and saturation of specific colors or objects of a scene.
Shot-to-Shot Matching – Match multiple shots together with the side-by-side viewer. Choose a 'hero' shot and simply add clips to the group.
False Colors – See different luma values represented as different colors.
Real-time Previews of LUTs and Looks – Preview LUTs as thumbnails. Choose from 90+ built-in Hollywood film looks.
Look Transfer Tool – Easily match the color palette of your favorite image or film with the Look Transfer Tool.
ACES Color Management – Get log images to a good base starting point using color science developed by the Academy.
X Rite Chart Support – Let this tool perform auto exposure and color balance corrections.
Requirements
To run #THE SOFTWARE with optimum reliability and performance, your system should match the following requirements:
The minimum system requirements for Windows:

Windows 10 Pro version 21H1 or later
Graphics card with: 2 Gb of RAM for HD, 4 Gb for 2K and 6Gb for 4K projects
Premiere Pro CC 2021 (15.4) and later
DaVinci Resolve 17.4.1 and later

The minimum system requirements for Mac [M1 Compatible]:

Apple Mac Computer 2012+
macOS Catalina 10.15.6 or later
OpenCL 1.2
Premiere Pro CC 2018 and later
Final Cut Pro X 10.4* and later
DaVinci Resolve 15 and later
Downloads
Your FREE download of the Cinema Grade plugin is waiting for you!
This popular color grading software makes editing footage quick, easy, and FUN. It's so easy-to-use and filmmakers around the world are raving about it! You can get your hands on it for FREE for 7 days!
Follow this button (don't worry; it's absolutely secure):
Free Full Version for 7 Days
Adobe Premiere Pro / DaVinci Resolve / Final Cut X Pro
Buy Now
We want our network of creatives to LOVE every part of their creation process, so we've asked the folks of Cinema Grade to provide our visitors with an exclusive discount on this intuitive software, used by pro colorists all over the world!
Guess what? They've obliged with a coupon code for 25% OFF OF ANY CINEMA GRADE PACKAGE (as long as you purchase before the end date of this month at 12:00 AM)!
ORDER HERE:

You also might like

Giveaway
OTHER CINEMA GRADE COUPONS
Cinema Grade Premium LUTs Giveaway is available now FREE for a limited time.Get the 70 FREE LUTs (worth $450) that get the cinematic look in seconds for Premiere, DaVinci and FCPX.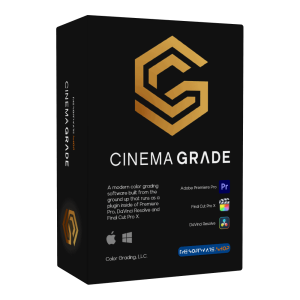 Please note that once you have signed in, do not close this page. You will be shown how to get this offer for free.
Also, check out the latest software giveaways that are available here on the software giveaway page.
NOTES:
– All prices shown here are in listed USD (United States Dollar).
– Such promotional programs are subject to change without notice, from time to time in our sole discretion.
– Data may vary based on different systems or computers.
Excellent
Cinema Grade is a revolutionary color grading software that makes the process of color grading easier and faster than ever before. With Cinema Grade plugin, you can now grade your footage on-screen with direct manipulation of grades in real time, along with over 90 Hollywood style looks built into the plugin.
This product is perfect for any professional or amateur filmmaker who wants to make their video look more cinematic.
---
Thanks for reading Cinema Grade Review & Enjoy the discount coupon. Please Report if Cinema Grade Discount Coupon/Deal/Giveaway has a problem such as expired, broken link, sold out, etc while the deal still exists.