GIVEAWAY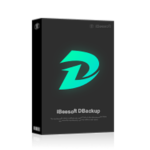 100% Software Giveaway on iBeesoft DBackup 2.0 – Free License Code – Data Backup and Drive Clone Software – for Windows
Create an image to backup/clone/transfer your files/Windows system from one drive to another disk, SSD, USB drive, or other external storage devices without loss. Get iBeesoft DBackup 2.0 full version with a license code for free!
Free License Code
iBeesoft DBackup 2.0 Review at a Glance
iBeesoft DBackup 2.0 is a reliable, fast and complete backup tool enables you to back up everything you need on the computer, including file, hard drive/partition, system and even external drives, protecting your important data. The data backup tool has automatic backup options makes it easier and more efficient for you.
With the options available, one is bound to create a backup of everything on a computer, including the operating system. Additional options including backing up partitions of HDD and external HDDs. The primary benefit of the program is the automatic backup setup option.
Features
Key Features of iBeesoft DBackup 2.0:
Complete Backup

File Backup – Supports back up all file types to the hard drive, USB drive, and more.
Drive Backup – Clone a hard drive or USB drive.
System Backup – Image back up of your entire OS hard drive or partition, in case of restoring both the operating system and data when you need.

Powerful tools

Multiple Backup Modes – Customize your backup types, the full image, incremental, or differential, customize location and schedules.
Schedule Backup – Any backup program worth its salt allows you to schedule backups.
Standalone Backup – Back up the selected files, folders, or volumes alone, without any interruption of the current operations, especially for open files backup.
Clone Drive & Migration – Easily and safely clone system or disk for the purpose of data protection, transferring to bigger hard disk for backup

Clone Solutions

System Clone
Clone Hard Drive
Partition Clone
Clone USB Drive
Memory Card Clone
Clone Other Drives

Recover Features

Restore Partition/Disk,
Restore Deleted or Losing Files,
Restore Crashed System
Requirements
To run DBackup 2.0 with optimum reliability and performance, your system should match the following requirements:
System: Windows 10/8/8.1/7/Vista/XP
Disk Space: A minimum of 1GB of available space on the hard disk
CPU: 1GHz processor or faster
RAM: equal or larger than 1GB
Hard Drive: Parallel ATA (IDE) HDD, Serial ATA (SATA) HDD, SSD etc.
USB Drive: USB 1.0/2.0/3.0, flash drive, etc.
Card Storage: Memory/SD Card, CF Card, Smart Card etc.
Large Storage Device: RAID, Large-capacity Drive etc.
iBeesoft DBackup Download
Not sure if iBeesoft DBackup 2.0 does what you need? Try it out now. Please feel free to download iBeesoft DBackup 2.0 for Windows here. This data backup sofrtware has been tested professionally and we are assured that no viruses, Trojans, adware or malware contained.
Buy Now
iBeesoft DBackup 2.0 retails for $29.95, But, through our website, THE Software Shop, you can get iBeesoft DBackup 2.0 full version with a license code for free in the Giveaway tab below . This offer is available for a limited time!
You also might like

Giveaway
iBeesoft DBackup 2.0 Giveaway is available now free for a limited time!
Please note that once you signed in, do not close this page. You will be shown how to get this offer for free.
Also, check out the latest software giveaways that are available here on the software giveaway page.
NOTE:
– All prices shown here are in listed USD (United States Dollar).
– Such promotional programs are subject to change without notice, from time to time in our sole discretion.
– Data may vary based on different system or computer.
---
Thanks for reading iBeesoft DBackup 2.0 Review & Enjoy the discount coupon. Please Report if iBeesoft DBackup 2.0 Discount Coupon/Deal/Giveaway has a problem such as expired, broken link, sold out, etc while the deal still exists.