GIVEAWAY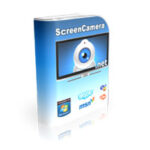 Software Giveaway – ScreenCamera.Net: Free Registration key | The Full-featured Desktop Screen Recorders – for Windows
With the extra ability to serve as virtual cameras. Get your ScreenCamera.Net full version with a registration key for free!
Free License Code
ScreenCamera.Net Review at a Glance
ScreenCamera.Net records video from all installed monitors. Most of the screen recorders capture video from the main monitor only. ScreenCamera.Net supports screen capture from any monitor and it also supports picture in picture so you can have both monitors on the same video output or you may have the desktop #1 as the main video output and you have desktop #2 on a smaller box on the corner of the video output and you can switch back and forth.
ScreenCamera.Net architecture based on a layer-by-layer mode to operate gives you endless possibilities of how to play with your multiple monitors on one video output.
With ScreenCamera.Net you can create videos and pictures and share them on the Internet. This video recording & streaming software is a studio of video equipped with technology vectorial and technology of multiple layers designed to create videos and pictures.
ScreenCamera.Net is also a video camera for the System of Windows. The video camera software is compatible with Skype and all programs and websites of the conference of the video. This software comes equipped with a scheduler to record videos and to capture images automatically.
ScreenCamera.Net also comes equipped with a printer of images, a browser of files of images, a viewer of files of images, a browser of files of video, and a video player.
Features
Key Features of ScreenCamera.Net
Record videos from websites like YouTube and Facebook, DRM protected or not. Record videos from your webcam and TV card and external devices. Record narrated tutorials from your desktop video plus your microphone audio. Stream live video from your desktop, your webcam, tv card, and external devices. ScreenCamera.Net supports capturing, recording and streaming video from all monitors. Easily embed video streaming on your web page. Watermark your videos and your online conversations with your brand or your company brand name and logo. Be able to mix on the same video output your desktop screen plus your webcam or a movie to be played, text, shapes, and much more. Gain the power to customize your video output content for a rich presence on recorded videos, streamed content, and live video conference calls. Record your video conference calls in high definition. Take compressed pictures of your desktop, webcam and movie moments. Roll over live RSS feeds on the bottom of your video output content. Create music plus lyrics videos easily with a few clicks. Share documents, images, videos, and songs on video conference apps and websites. Take pictures and edit them by adding text stamps, shapes, images, and share them on social networks or print them. Have it all inside one application with video browser, video player, image browser, image previewer and image printer. Tucows rated ScreenCamera.Net with 5 stars.
Requirements
System Requirements for Windows
Intel 1.3GHz
120MB HD
256MB RAM
Windows 2000/XP/2003/Media Center/Vista/Windows 7/Windows 8/8.1 and 10/32 and 64-bits
Minimum screen resolution of 800×600
ScreenCamera.net Download
Free download ScreenCamera.Net:
Windows
Buy Now
ScreenCamera.Net by PCWinsoft is available for $99.95, but on the software shop, you can get this software with special price include a discount coupon up to 90% off.
You can also get PCWinsoft ScreenCamera.Net with full version license for free in the Giveaway tab below
ORDER HERE

You also might like

Giveaway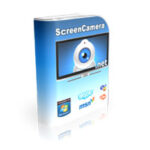 ScreenCamera.Net - Lifetime (75% Off)
Get real-time video animation studio with layer-by-layer and frame-by-frame technology like Adobe Animate.
Keys for all your personal PCs
Easily request keys from inside the application.
15 days and no Key requested to apply for refund.
Platform: Windows
$29.95
ScreenCamera.Net Full Version Giveaway is available now FREE for a limited time!
Please note that once you have signed in, do not close this page. You will be shown how to get this offer for free.
Also, check out the latest software giveaways that are available here on the software giveaway page.
NOTE:
– All prices shown here are in listed USD (United States Dollar). Your local currency will be converted automatically, You can also switch to any other currencies during the checkout process.
– The discount coupon & your local VAT (Value added tax – if available, vary by country) will be applied at checkout automatically.
– The order(s) for the software are processed by the Avangate company. This company accepts paying on-line, via PayPal, by fax, bank-wire transfer, check, cash, or purchase order.
– You will receive a notification e-mail from Avangate when your order is processed which will also include your license information.
– Such promotional programs are subject to change without notice, from time to time in our sole discretion.
– Data may vary based on different system or computer.
---
Thanks for reading ScreenCamera.Net Review & Enjoy the discount coupon. Please Report if ScreenCamera.Net Discount Coupon/Deal/Giveaway has a problem such as expired, broken link, sold out, etc while the deal still exists.
Great!
ScreenCamera.Net is a real-time video recording and streaming studio which can be used to record customized content as well as stream it directly to the Internet or to Media Servers.